BGHFabricated Gravity Relief/Intake Ventilator
Gravity Vent Series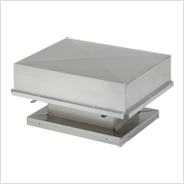 Model Features
Exhaust or Supply air up to 90,000 CFM in static pressure applications up to 1/4" w.g.
All aluminum or steel construction with standard mill finish.
All curb base corners miter cut and continuous welded.
Hood reinforced and braced for extra strength.
Hood assembled with standing and snap back seams secured with spot welds.
Hood perimeter opening area same as throat area.

Relief 1:1 ratio
Intake 2:1 ratio

Birdscreen of 1/2" x 1/2" mesh galvanized welded wire.

(NOT AVAILABLE WITH FILTERS)

Hood has a wide overhang for storm protection.
Model Overview
BGH Gravity Ventilators offer a modern low silhouette design that blend with roof lines and other equipment. Designed for maximum airflow passage and weathertight integrity, BGH comes in either intake or relief models with aluminum or galvanized finishes. An extensive range of sizes is offered with many standard and optional features. Exhaust models have a 1:1 ratio of hood perimeter opening to throat area and supply models incorporate a 2:1 ratio.
To meet other size or ventilation capacity requirements, custom sized units are available upon request. Consult your representative or factory for specific details and performance capabilities.
1-year fan housing warranty
Additional accessories are available for certain products. Contact your S&P Representative for more information about these accessories.
Standard Accessories
| | | |
| --- | --- | --- |
| Aluminum Birdscreen | | |
| Hinged Hood | | |
| Insulated Hood | | |
| Filters | | |
| Insect Screen | | |
| Roof Curb | | |